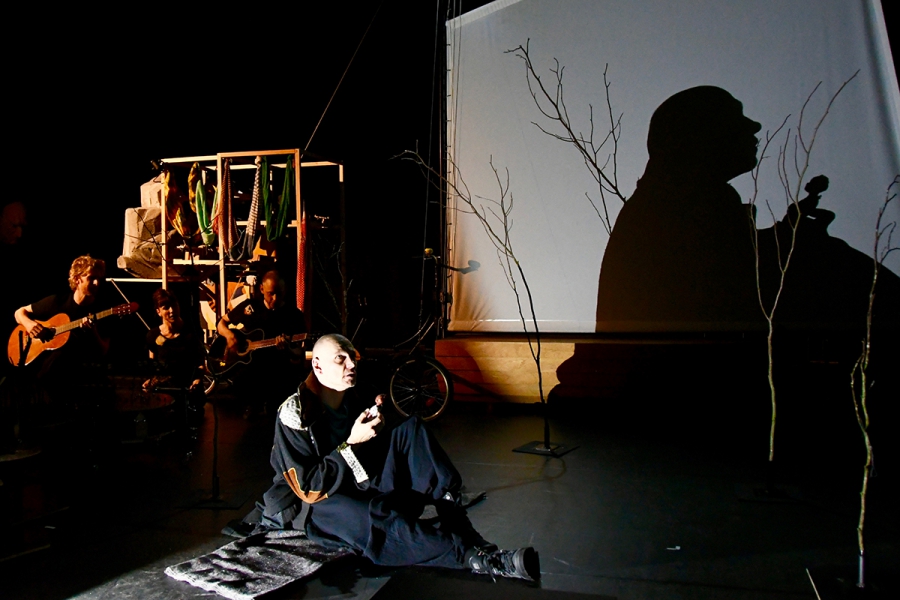 What colour does time have?
Are we killing it or does it kill us?
Do you pick the moment or does the moment pick you?
Is happiness greater than sorrow or the other way around?
Can you gain richness by losing something?
Can missing something of someone make you happy?
Can you change the past?
Would you want to change it?
An old man on the scene, an inventor, an artist, a shaman. By using shadows, drawings and music he takes us on a wordless journey through the past. Showing us how he needed to say goodbye to the love of his life and how this goodbye brought him to amazing places. A journey that spins through time and crosses different worlds: landscapes of memories, memories of landscapes. Until we arrive at the end. Can you bring the End to an end? This wordless performance (8+) displays a wonderful figure in an installation full of visual and musical surprises.
concept: Erki De Vries and Freija Van Esbroeck | scenography and animations: Erki De Vries en Freija Van Esbroeck | actor: Kurt Vandendriessche | music: Ruben Nachtergaele | directed by: Michiel Alberts | dramaturgy: Ruth Mariën | videoprogramation and lighting design: Kurt Vandendriessche |montage: Anaïs Negre | animation coach: Paul Delissen | costume: Kristin Vanden Bosch | production: WIThWIT vzw | coproduction: HET LAB-Hasselt, Het Laatste Bedrijf | in cooperation with: Theater FroeFroe, De Warande, Hetpaleis, Walpurgis en De Grote Post. This performance was managed through the support of Tax Shelter of the Belgian Federal Government, Gallop Tax Shelter, the Flemish Government and the city of Antwerp. Thanks to Barbara Raes, Ilse Daems en Annemie Buytaert.